Clarity is a 501 (c) 3  non-profitagency that provides speech & language, hearing & audiology, and psychology & learning assessment and treatment to people of all ages. Our nonprofit status allows our donors to make tax-deductible gifts that enable us to provide the highest quality services-even to many who could not otherwise afford them.
Our mission is to partner with our community to empower people to overcome speech, hearing, and learning challenges. Our donors are partners, who make it possible for us to help more people.
Imagine your child's frustration at not being able to tell his family what he needs, or what fun he had that day. Imagine that you are that child's grandparent and you can't understand what your spouse is saying, or that the laughter of your family irritates you because you think they may be laughing about you! Imagine you are in elementary school and are having difficulty keeping up with your class, no matter how hard you and your parents work.
Now, imagine your relief at finding a place to help you or your child. We are here to help people solve these challenging problems. For more than 65 years, Clarity has been a community resource for children, adolescents and adults with concerns about speech, language, hearing, and learning.
Our audiologists, speech-language pathologists, psychologists, and learning specialists evaluate, diagnose, and treat individual problems and make appropriate referrals and recommendations. All professional services are provided by our staff of university trained, licensed and/or certified professionals.
Please call 864-331-1400 or email Clarity at info@clarity.com today.

You are cordially invited to join us as we celebrate Clarity, Inc's impact on our community. This LIVE virtual event will be held Saturday May 1st at 7:00 PM. It will be hosted by Jackie Brown, WSPA Meteorologist, and entertainment will be provided by the Synergy Twins.  To learn more about the event click HERE.
To register to join us for an exciting evening go HERE.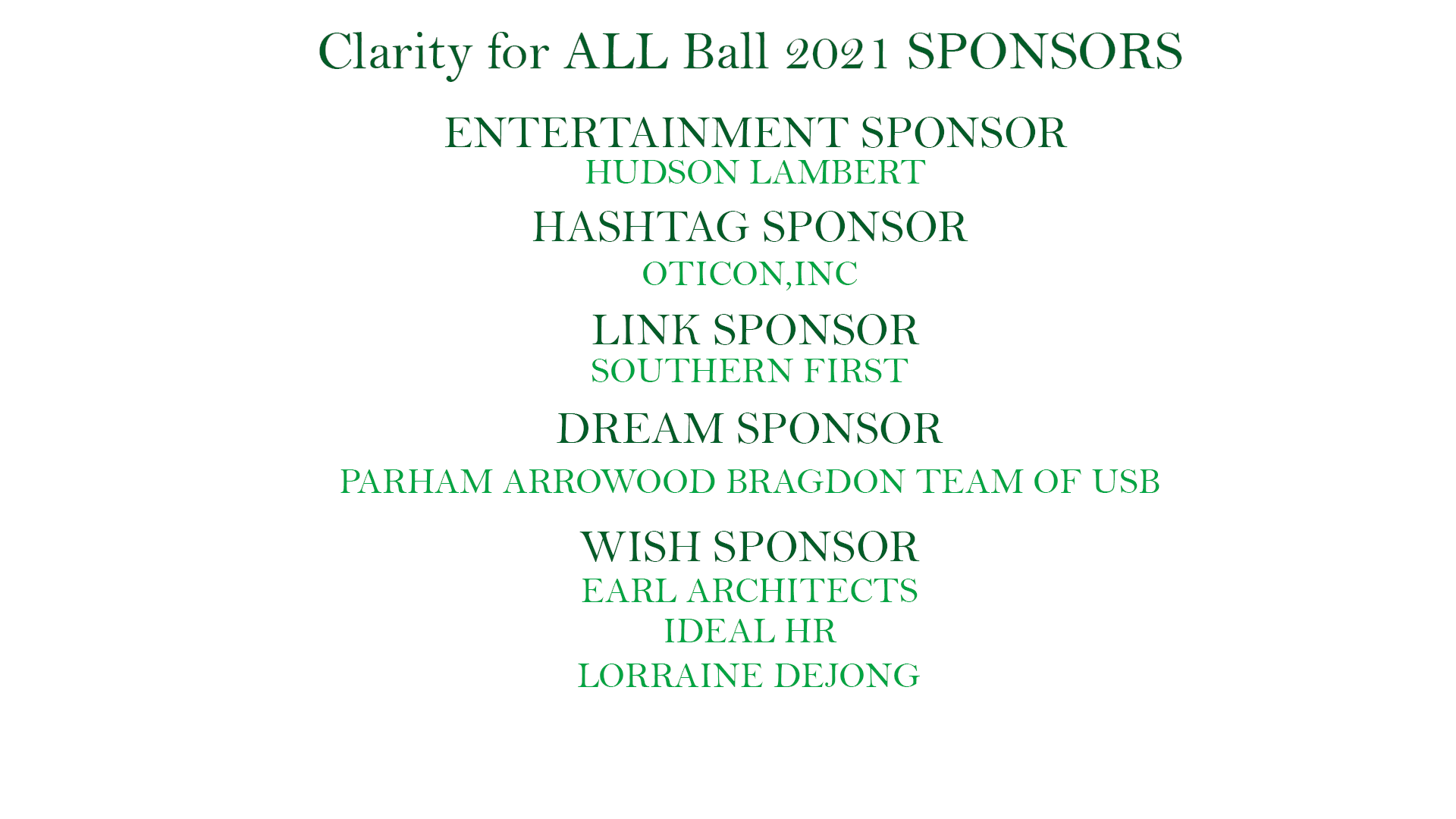 Center for Developmental Services
In April of 2000, Clarity formed a partnership with the Center for Developmental Services (CDS) and we are now located in one building with 6 other organizations. CDS provides facility management, intake and scheduling, medical records and partner coordination. CDS also helps the community learn more about developmental services and how to get involved. For more information about the Center for Developmental Services, visit their website, www.cdservices.org.