Clarity's Learning and Psychology Department provides psychological and psychoeducational evaluations, learning intervention, and counseling to children and adults. Our highly trained and experienced specialists evaluate and provide intervention for multiple areas of concern, including developmental delays, learning/academic skill development, intellectual functioning/cognitive processing, attention, executive functioning, social skills, emotional functioning, and/or behavioral functioning.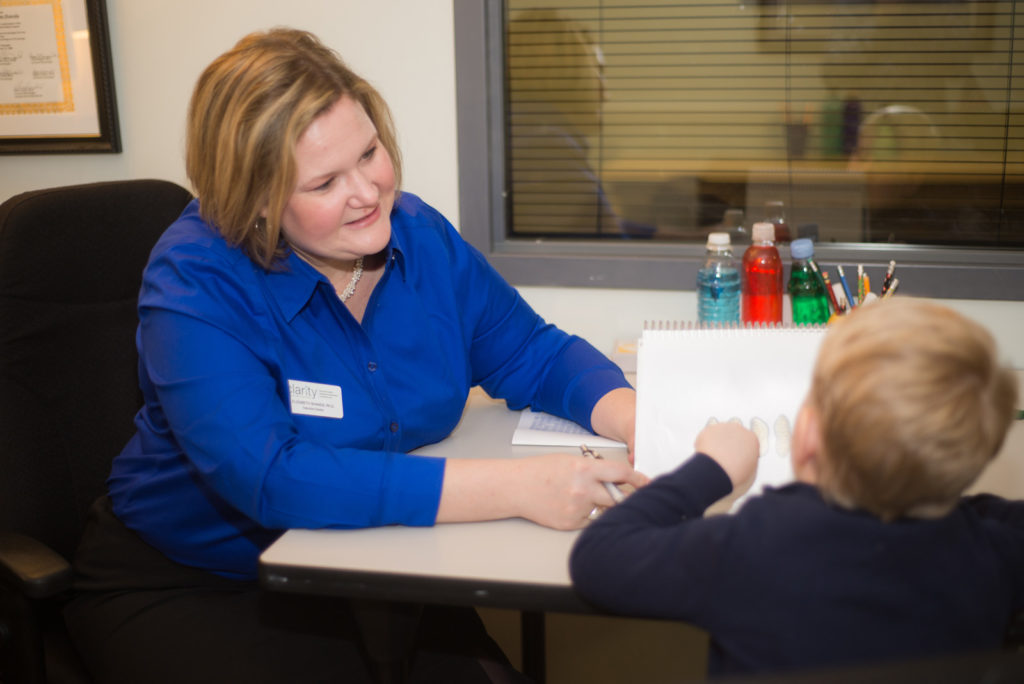 At Clarity, our specialists in psychology and learning have three goals:
Empower clients (and their families) with knowledge, through comprehensive and individualized evaluations that provide information about strengths, weaknesses, and struggles.
Develop and implement plans that strengthen skills and intervene for weaknesses.
Clearly communicate results of evaluations and treatment plans
Referrals are accepted from physicians, schools, tutors, therapists, or family members, but no formal referral or a prior evaluation is required to access any of our services.
Psychology Services
Comprehensive Psychological Evaluations
Psychological and Psycho-Educational evaluations are conducted by doctoral-level specialists (licensed psychologists or postdoctoral fellows under the supervision of a licensed psychologist) who also are caring, personable, and approachable clinicians. They are experts in school psychology, with clinical expertise in diagnosis, having spent a number of years practicing in the public school system prior to community-based practice.
Our evaluations are comprehensive and specially tailored to provide answers to your unique concerns. We identify positive resources/strengths in our clients that can be used to enhance their functioning, while overcoming their difficulties. To achieve this, we provide comprehensive evaluations that include assessment in many of the areas below:
Intelligence
Academic Achievement in all areas of Reading, Mathematics, and Written Expression
Cognitive Processes including auditory/phonological processing, processing speed, short-term memory, and long-term memory
Executive Functioning
Attention
Visual Perception and Visual-Motor Skills
Receptive and Expressive Language
Adaptive Functioning
Social-Emotional and Behavioral Functioning
We seek to provide robust and conclusive answers, as feasible, to questions about the possibility of various clinical diagnoses, including specific learning disorders (including dyslexia and nonverbal learning disorder), ADHD, autism spectrum disorder, anxiety, depression, intellectual disability, or others. Specific and individualized recommendations for academic and behavioral interventions, as appropriate, are provided following evaluations.
Learning Services
Learning intervention is provided by experienced, master teachers who are certified in elementary and/or special education and who have expertise in specialized learning methodologies (such as, Orton-Gillingham, Wilson Reading, or Lindamood Bell). Learning intervention sessions are scheduled in one-hour units through individual or small group sessions. Treatment plans are developed collaboratively by the referring psychologist (when evaluated at Clarity), the parent(s)/guardian(s) and the learning specialist to address a variety of concerns, including basic reading skills (decoding), reading fluency, reading comprehension, math calculation, math reasoning, written expression, spelling, organization, planning, and/or study skills.
Seasonal Programming: Relax Kids and Chill Skills
Relaxed Kids, for children ages 6-13, and Chill Skills, for children ages 14-17, are offered at Clarity by Jelena Popovic of Poised Kids, LLC. These small group classes run for eight weeks and are designed to help young people feel more confident, improve their learning potential, manage their emotions, and be the best they can be. Each class includes movement and games, stretching, breathing exercises, positive affirmations, and visualizations.
Counseling
Licensed providers in the Psychology & Learning Department provide counseling, parent training, behavior management, and/or social skills support through individual, family or group counseling sessions.
Consultation
Our providers offer client and/or parent consultation, generally scheduled in one-hour units. Consultation is available to help clients or their parents improve learning strategies, modify unproductive behaviors, and/or improve attention.
You can also schedule consultations with one of our psychologists to explore questions such as: "Where should I go next?" or "Does my child's current IEP make sense based on his/her needs?" or "Are there other available services that may help my child that I haven't yet accessed?"
Workshops
Our staff is available to provide workshops for parents and teachers relative to educational or psychological issues. Please contact Clarity at 331-1400 for more information.
Autism Spectrum Evaluation Team
ASET is a multidisciplinary team of professionals who work together to provide children with a truly comprehensive evaluation. Team members include experts in autism spectrum disorders from the following fields: psychology, speech-language pathology, and occupational therapy.  Depending on the needs of the client, sometimes an audiologist is also part of the team.
For more information about Autism, please follow this link to our Clarity Autism page.